Urban fantasy about the son of a god
I have actually already read this book, and back before I stopped using the star review mechanism on Goodreads, I gave this a 3 star review. I remember not being as impressed with this book as I was with other works by the author. However, when I saw that there was a BBC radio adaptation available to listen to online, I thought I would give it another try.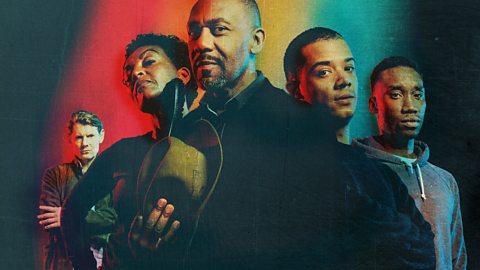 "Anansi Boys" by Neil Gaiman, adapted by Dirk Maggs and directed and produced by Allegra McIlroy for BBC Radio 4 is a radio play about a young black man called Fat Charlie (voiced by Jacob Anderson) who is living a mediocre life in London when he finds out his charismatic father Mr Nancy (voiced by Lenny Henry) has died in Florida, USA. After just catching the end of the funeral, Charlie finds out that not only was his father was much more than he seemed, but that he has a twin brother. After whispering to a spider that he wouldn't mind meeting him, his brother Spider (voiced by Nathan Stewart-Jarrett) arrives at his London flat and turns his life upside down.
I enjoyed this adaptation far more than I did the original novel. Gaiman likes to write about the theme of seemingly ordinary men who get swept up in extraordinary events, and I remember finding the parts of the book highlighting Charlie's humdrum existence and reticent personality a bit dull. However, the voice acting in this adaptation is excellent and the actors infuse the characters with depth and subtlety that I felt was missing in the original. Anderson makes Charlie a much more relatable character and lets Charlie's disappointments and difficulties with self-esteem and assertiveness rise through the dialogue. Stewart-Jarrett was excellent as Spider, and captured the Anansi charm and charisma perfectly.
I think a major question that arises through work like this is about stories and who should be able to tell them. Gaiman is very interested in writing about historical gods in contemporary settings, and this book slots within his "American Gods" universe. However, this book is about Anansi, a god and character from West African, Carribean and African American folklore. Given the #OwnVoices movement, I did a bit more reading about the background of "Anansi Boys", and Lenny Henry has done some great interviews (written and spoken) about his own involvement in the original creative process behind Gaiman's story. The advantage of this adaptation is that there are so many black voice actors, and while the writer, adaptor and director are all white, it was really nice to learn about Henry's significant input into the novel.
A really fantastic production that was even more enjoyable than the original book.