Content warning: mental illness, addiction, suicide ideation. 
My experience of this book was a bit different to my usual reviews because I didn't read it, I didn't listen to it as an audiobook per se, but I listened to it as a podcast called "Mum Says My Memoir is a Lie".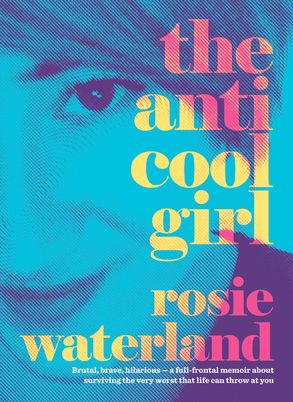 "The Anti-Cool Girl" by Rosie Waterland is deeply personal memoir about Waterland's experiences growing up in a dysfunctional family plagued by mental illness, addiction and poverty. Waterland chronicles her sometimes hilarious and sometimes deeply painful memories from birth up until just before publication. Although Waterland's mother Lisa's alcoholism had prevented her from reading the book when it first came out, Lisa has since sobered up and is ready to challenge Waterland on some of the things depicted in the book. On the podcast, each episode begins with Waterland narrating a chapter from the book and then Waterland and her mother Lisa spend the rest of the episode discussing the events of the chapter, especially around whether Waterland's recollections are correct.
I think it's difficult to separate out the book from the podcast because so much of podcast is the book, so this is going to be a kind of combined review. Waterland is a very funny writer, and has a exaggerated, self-depreciating sense of humour that balances out the more serious parts of the book. Waterland is also unflinchingly honest about her feelings and experiences, sometimes in quite shocking (and refreshing) detail. This book is overall an incredibly telling insight into Australia's care and protection system, the public housing system and the mental health system. Rosie also shares her personal experiences with depression, suicide attempts, bullying and weight gain and then her remarkable success in her writing.
When I first started listening to this podcast, hearing Waterland read a chapter of her book, my initial judgment was that her mother Lisa was a terrible mother whose alcoholism traumatised her children. I think that if I had read the book by itself, that would have remained my judgment the entire way through. However, having Lisa participating in the podcast and responding to each chapter did lead me to think that Waterland was perhaps not always the most reliable narrator, especially in the chapters about her younger years. It also gave me a lot more empathy for Lisa and a better appreciation of her own struggles. However, where the facts aren't completely clear or when some of the subject-matter gets a bit dark, you can count on Waterland to bring the mood back up with a joke or an embarrassing story about herself, even if it's a bit embellished.
This is a powerful, hilarious and insightful book that is given a whole new layer of depth through this unconventional storytelling platform. I think the book is good, but the podcast is excellent and it is a very rare opportunity to listen to frank conversations between an author and her subject-matter: her mum.